Brie Bella, the other half of the most famous tag team 'The Bella Twins' is an all-rounder. Not just is she a pro at wrestling but also a great mommy and runs her YouTube channel! There's nothing in the world Brie can't do.
Brie Bella Early Life
Sixteen minutes younger of the twins, the super talented Brianna Monique Garcia-Colace started her life in California amidst the farms. Right from the start, Brie had a keen interest in athletics. She loved to play soccer and even participated in the Scottsdale club during her school. Soon after graduating from high school, Brie moved to San Diego for college but later shifted to Los Angeles. Brie worked part-time as a waitress and aimed to become a model and actress. This passion drove her to find an agent. Eventually, she started working as a model and made her first-ever screen appearance on the show 'Meet My Folks'.
Brie and Nikki were glued to each other. They worked together to achieve fame and helped each other in hard times. Their sisterhood remained unperishable throughout their career.
In 2006, the twins participated in "International Body Doubles twins search", and later in "WWE Diva Search" the same year but didn't really get much attention.
Brie Professional Career
Brie Florida Championship Wrestling (FCW)
Brie didn't step into the wrestling career alone. She and her twin sister Nikki started the journey side by side. It all began in 2007 when the twin sisters were signed to WWE's development contracts and were assigned to Florida (FCW's Territory at that time). The duo had their first victory on September 15 against Nattie Neidhart, Krissy Vaine, and Victoria Crawford. Their rivalry with the Bellas continued for some time. The Bellas were quite fond of each other and used to switch places during the matches without letting anyone know. The team fought many matches and started to get recognized for their charm in the ring. They also made an appearance on screen, outside the wrestling shows.
In December 2007, the Bella twins resumed their fight against Neidhart and Crawford which kept going throughout the next year. September 2 marks the last match they fought during FCW which was against Miss Angela in a Divas battle royal.
The Bella Twins
Brie's debut match was against Victoria on August 28, 2008, in SmackDown. She shone in this match by pinning down Victoria easily. A scripted rivalry started between Brie and Victoria (and Natalya, Victoria's accomplice). In all of her matches with them, Brie would go under the ring and appear again fresh and strong. But soon this play got exposed when Victoria grabbed her legs and another pair of legs appeared out of nowhere to kick her back. In the following match, Victoria and Natalya discovered both the twins under the ring. This marked the Bela Twins' first official match together. The twins then started a romantic storyline with 'The Colons'. In February 2009, The Miz and John Morrison also joined this storyline. A twist developed in the storyline on March 17 when Carlito and Primo spat on brie accidentally. Nikki found this funny which made Brie mad at her sister and they got against each other and joined opposite parties. Brie along with Primo and Carlito won the match against Nikki's team but was later bested by her older sister on March 31.
In April, Brie made her debut in the Diva tag team match. On the 4th of January 2010, next year, Brie took part in Divas Championship but lost the match to Maryse. The sisters didn't stop switching during the matches. The twins then started a storyline in November with Daniel Bryan. The two fought each other for Bryan but this storyline took a serious turn when the twins found Bryan kissing Gail Kim in secret. They attacked Kim and fought her in several following matches.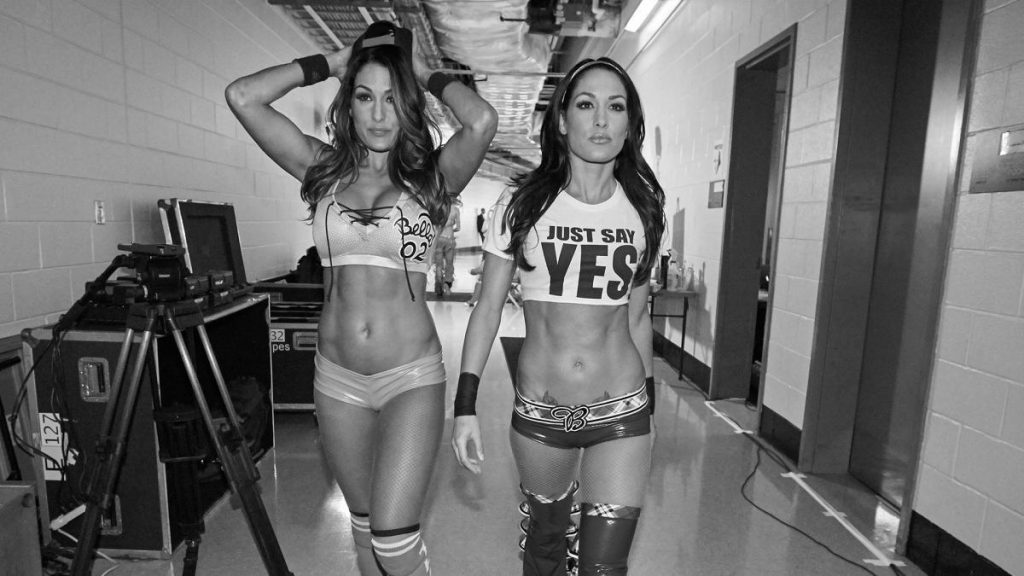 Return to WWE
In March 2013, the Bella twins came back to WWE. The twins kept entangled between the Funkadactyls and Team Rhodes Scholars. Later in Total Divas Reality show, Brie challenged AJ Lee but lost the match. Meanwhile, Brie got engaged to Daniel Bryan. The twins could win against Aj Lee and after several matches, they lost the Divas Championship at WrestleMania XXX.
Team Bella
With Brie's help, Niki was able to defeat Aj Lee and became a two-time Diva Champion. Later on April 26, Nikki again won the title with the help of her sister against Naomi. Nikki was able to defend her title for a whopping 295 days.
In March next year, Brie developed a feud with Lana because she pitied Brie for having a "bad husband". The battle continued with Brie joining the Total Divas cast and Lana aligning with Team B.A.D, ending up in a 10-Diva Tag team match. But after three days, Brie declared that she will be taking a break to spend more time with her family and husband.
Retirement
It was on March 10, 2019, that Brie announced her retirement. Later in Feb 2020 SmackDown, the Bella twins were inducted into 'WWE Hall of Fame'.
Personal Life
Brie revealed her engagement with Daniel Bryan in September 2013. The vegetarian couple then married in 2014. Later in October 2016, Brie excitedly announced that she was expecting her first child and gave birth to a pretty girl on May 9, 2017. Later in 2020, Brie gave birth to a second child, a boy. Currently, she is living a happy life with her family.
Championships and Achievements
Team choice awards 2016
Worst Feud of the year 2014-2015
Worst worked match of the year 2013
WWE
Divas Championship (1 time)
Slammy Awards (3 times)
Couple of the year (Brie and Daniel)
Diva of the year (2013)
WWE hall of fame (2020)