A hardcore gamer and a fan of anime and comics, April Jeanette (AJ) Mendez aka 'The Geek Goddess' was born on March 19, 1987 (33 years old). Just like any protagonist in an action anime, Mendez had a unique and vibrant persona that became only more intriguing with her unpredictability in the ring. Her tomboyish attitude sets her apart from any other diva in WWE. She is known by her ring name AJ Lee and is a retired professional wrestler and a writer.
AJ Lee Early Life
Mendez started her life's journey from New Jersey, her hometown. Her parents struggled to make both ends meet and wanted to give their children (Mendez being the youngest of her siblings) a good life. In her childhood, April had witnessed the rough side of life. Poverty made them move from one place to another and led them into the path of drug abuse. Seeing her brother wrestle, she got inspired and chose the path of wrestling. Lita (A retired American WWE wrestler) influenced her to the point that she firmly decided to be a wrestler. In 2005, Mendez graduated and later majored in television production and film from New York. Mendez didn't let anything stop her from achieving her goals, so she started working overtime to get wrestling training. At 20, she was diagnosed to have bipolar disorder, but she fought against the odds and overcame it.
Professional Career
Start
Mendez started her career in 2007 by training under the mentorship of Jay Lethal in New Jersey. Gradually she joined Women Superstar Uncensored (WSU) as Miss April and gained the WSU tag Team championship with Brooke Carter. In 2009, she joined WWE's development system Florida Championship Wrestling (FCW) to start another adventurous journey.
AJ Lee in WWE
During FCW development territory, she participated in the third season of NXT but got the third position. Eventually, her ring name changed to AJ Lee (Lee was the name of a voice actor from her favorite anime Cowboy Bebop).
At the beginning of 2010, AJ Lee got the title of Queen of FCW. But later the same year, her dark side started to show up and she eventually took the role of a villain when she got eliminated from the FCW Diva Championship tournament. She had a joust with Naomi Night the winner. In November, Rosa Mendes took the title of the queen from her. AJ took her revenge and snatched the FCW Diva championship title from Naomi at the end of the same year. She kept the title to herself until Aksana defeated her in 2011.
NXT
AJ Lee started gaining popularity on-screen and her fans demanded more of her presence in the ring. In 2010 she was one of the 6 female participants in the 3rd season of NXT. Along this journey, she met Kaitlyn her competitor, and a friend. Lee was eventually eliminated in November. AJ and Kaitlyn came back in a Smackdown episode on May 27, 2011, as a fierce tag team with the kickass name "The Chickbuster". They faced defeat for consecutive weeks against Alicia Fox and Tamina but eventually took revenge on June 10 when she destroyed Tamina in a one on one match. Later in July, AJ started a storyline in NXT redemption as Hornswoggle's girlfriend. On the other hand, the fire was blaring in Smackdown as the Divas of Doom (Natalya and Beth Pheonix) continued to defeat the Chickbusters for several months. This caused tension between AJ and Kaitlyn and Kaitlin betrayed her by joining the opposing team of Divas of the Doom.
Love storyline and Raw Manager
November 2011 was the onset of a one-sided love storyline between AJ and the then World heavyweight champion, Daniel Bryan. Although it was unreciprocated, AJ kept making moves on Bryan who had no interest in AJ and even blamed her for his defeat in WrestleMania XXVIII against Seamus. This left AJ super annoyed and she vented out her anger on the Divas of the doom while they were consoling her. This event made her come off as 'mentally unstable'.
AJ attempted to incite him by showing her affection towards his rival, CM Punk. In a fight between Bryan, Punk, and Kane, AJ helped Punk retain his title by distracting Kane. On June 9, AJ proposed to Kane but he rejected. On the night of July 15, in Raw, Bryan finally proposed to her, and she accepted but she left him at the altar when they were exchanging vows in Raw 1000. On her first day as a RAW General Manager on July 30, AJ said Bryan only wanted the "legal leverage" to have her committed. AJ kept taking her revenge from Bryan and Punk as a GM until she stepped down on alleged grounds of being fraternizing with John Cena. Vickie kept proving this was true until AJ and Cena kissed each other on one episode of Raw. This started a relationship between the two. AJ's love stories are crazy and twisted. She dumped John Cena later in Tables, Ladders, and Chairs in which she helped Ziggler defeat Cena.
Divas Championship
On June 10, AJ pinned down Kaitlyn and secured Divas Championship. She successfully kept on defended the title until Ziggler and Kailyn teamed up to beat her and Langston in SummerSlam's "Mixed Tag Team" match in August.
AJ loved to start a fight and interfere in matches. She took up a fight with Total Divas and had to defend her title in a four-way fatal match with Naomi, Natalya, and Brie Bella. She kept on fighting and became the longest-reigning Divas Championship (295 days) which ended with an impromptu match against Paige.
On June 30 she challenged Paige for a rematch and won her second Divas Championship. The feud continued until a match in Hell in a Cell where she defended her title. Their feud took the form of friendship later in March when they defeated the Bella twins in wrestle mania 31.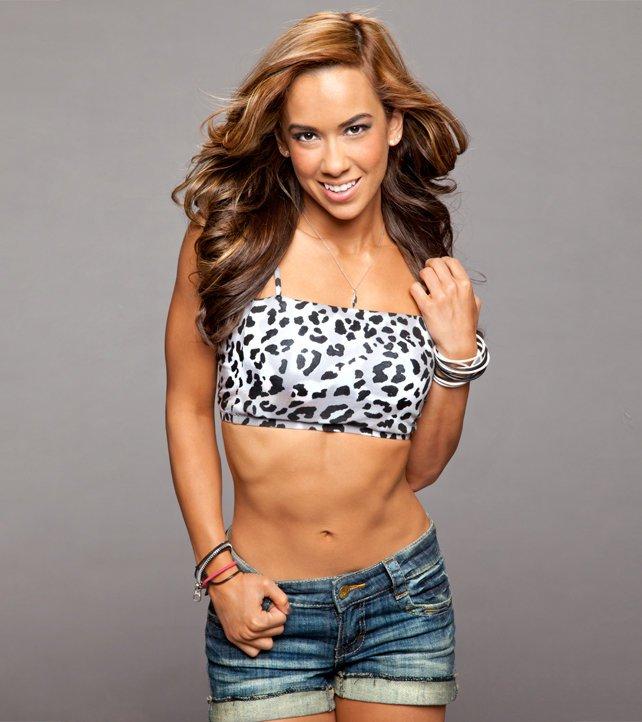 Signature Moves
Black Widow
Wheelbarrow Bulldog
Shining Wizard
Diving Crossbody
Missile dropkick
Achievements
FCW Divas Championship (1 time)
Queen of FCW
WWE Divas Championship (3 times)
Raw GM
Slammy Award for Diva of the year