Personal Life
Barbara Jean "Barbie" Blank— don't get fooled by the sweet "Barbie" in the name. She is ruthless, yet a total beauty in the ring and goes by the name "Kelly Kelly", in the WWE Universe. She is an American model, actor, and a WWE superstar. An Aquarius born on Jan 15, 1987, in Jacksonville, Florida, to Jew Father and a Christian mother. Her dad and she were fans of wrestling and in her childhood Blank's favorite wrestler was Stone Gold "Steve Austin". As a kid, she took part in gymnastics for 10 years but she quit due to a neck injury.
Later she did cheerleading in high school. From there she perused modeling and her photoshoot led WWE to sign a contract with her. Although she didn't have any wrestling experience, her athleticism and fiery persona got her recognized. She debuted when she was only 18 years old, a prodigy, and a great addition to the female wrestling world. She now resides in Malibu, California.
Career
An all-rounder having studied broadcast journalism, she initially hoped to be a television anchor and walked the ramp as a model for Hawaiian Tropic and Venus Swimwear. But the universe had other plans for her. In 2006, she debuted on ECW (WWE) as "Kelly Kelly", became a valet of her on-screen boyfriend Mike Knox. In the coming year, she performed a regular dance routine with Layla and Brooke Adams on ECW. Since then she gradually got recognition and fame, wrestling opportunities came her way.
In 2008, she signed a contract with RAW. Kelly challenged the champs of the WWE Divas Championship multiple times. Unsuccessful she moved to SmackDown in early 2010.  Ambitious as always, she challenged Lay-Cool for the WWE Women's Championship but was unsuccessful.
In 2009, Kelly fought in Divas Battle Royal. This was in WrestleMania XXV. She lost and Santina Marella remained victorious. During the mid-2009, Kelly competed in many number one contender matches but had no success.
At the end of the year, she competed in five on five elimination match, which was won by her team.
In 2010 Kelly performed at the Tribute for Troops show, gaining immense popularity in the process.
Criticized and bad mouthed by rivals, she never gave up. A fighter never loses hope. She returned to the Raw brand in April 2011 and stunned everyone by winning WWE Divas Championship.
Journey to championship
Barbara Blank was just a teenager when she took this industry by storm. Diving more into her journey to become a Diva. On April 26, 2011, came back to RAW as a member of the 2011 supplement draft. On May 22, being an underdog, she unsuccessfully challenged Queen Brie Bella for Divas Championship. Hungry for victory, she wrestled in tag team matches. She defeated her opponents in 7 on 7 diva tag team matches, pairing up with Gail Kim, Eve Torres, Natalya, A.J., Beth phoenix, AND Kaitlyn to defeat the formidable Bella twins, Alicia Fox, Melina, Rosa Mendes, Maryse, and Tamina.
Popular and being people's favorite, she won the vote by fans to determine the challenger for Divas Championship. Once again, she faced Bella. But this time she showed the world who the real boss was and became the champ.
The same year on August 1, Phoenix succeeded in winning battle Royal and became the number one contender for the title. Kelly successfully defended her title at Summer Slam. Her spectacular victory later won her a Slammy Award for "Divalicious Moment" of the Year.
Retirement
In 2012, Kelly was released by WWE. Later that year she revealed that due to her neck injury she needed time to heal and was going to focus on her modeling career. By this time, she had gained a cult following and fans were upset about her early retirement.
Return to WWE
Kelly, though retired, still had fight left in her. In 2018 Kelly participated in the first-ever Women's Royal Rumble match. She was eliminated by Nia Jax. Following a year on July 22, Kelly graced the ring by her presence at Raw Reunion Special and defeated WWE Hall of Famer Gerald Brisco to capture the WWE 24-7 Championship and became the first female wrestler to do so.
Other Media
Apart from the wrestling world, Kelly is also featured in other projects. She appeared in the music video of "Throw it on Me" along with other famous names like Layla El, Ashley, and Torrie Wilson. FHM online hired her for a photoshoot.
Early in 2008, Kelly featured in "Celebrity Fit Club: Boot camp as trainers". Following that week, she made a guest appearance as "Soccerette" on "Soccer AM" an English football show. Kelly and her rivals the Bella Twins also appeared on "The Price is Right". In 2012 Kid's Choice Awards she got nominated for "Favorite Butt Kicker".
Barbara Blank made a name even outside the ring. In 2011, in Maxim's Hot 100, she was ranked #82. She got the chance to show her acting talent in the 2015 Reality Television series "WAGS". The show centered around the wives and girlfriends of a sportsperson. Her actual acting debut was on "Days of Our Lives" in which she appeared as a waitress in one of the episodes.
Her social media game is strong too. In 2020, Kelly launched her YouTube channel. Where she posts Vlogs about her daily life. She has millions of followers on Instagram where she promotes her modeling career.
Blank (Kelly) also got featured in six WWE video games.
Wrestling Moves
Her signature move is Kelly Killer
Relationship
Blank went into multiple relationships over the years. She dated Andrew Martin (wrestler) for 2 years. But it ended before Andrew's unfortunate demise. In 2011 Kelly met "Sheldon Souray" an ice hockey player in one of crazy Maxim parties. They started dating soon afterward. Love was in the air and they married in 2016 in Mexico. Unfortunately, they got separated in 2017. Recently, in May 2020, she got engaged to Joe Coba. This may disappoint her male fan base, but she is taken.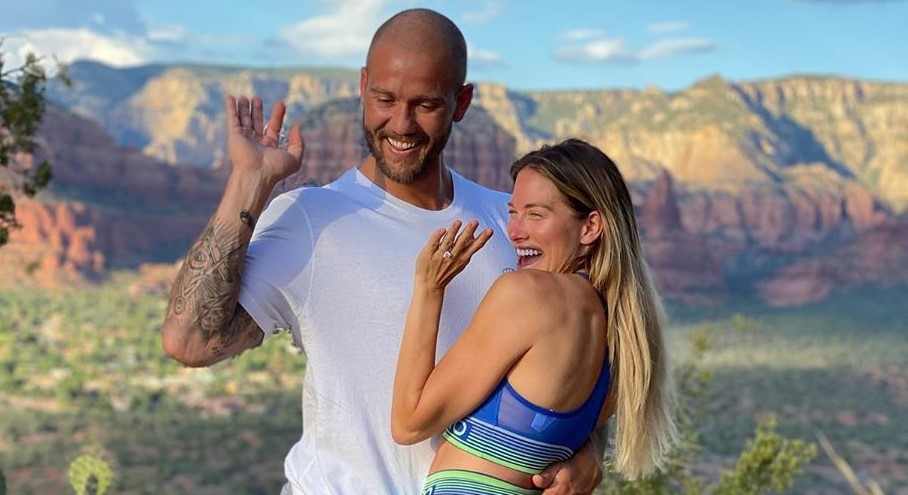 Accomplishments
Won WWE Divas Championship
Won WWE 24/7 Championship