Popularly known as Jeff Hardy in the world of wrestling and entertainment. Jeff Nero Hardy is a renowned Professional American Wrestler. He is also into music and philanthropy. Jeff Hardy made a name in the world of wrestling along with brother, Matt Hardy. He has several tag team titles, which he won with his brother. He also has individual titles to his name and is known for his daring style of wrestling.
Jeff Hardy began his journey in WWE wrestling in 1994 as a 16-year-old teenager.
He was born in Cameron, North Carolina, United States of America. He was born on the 31st of August, 1977. He started wrestling early in his life, and he co-created the OMEGA and TWF (Trampoline Wrestling Federation) with Matt Hardy, his brother. They promoted their wrestling via this outfit.
Personal Life
Born to Ruby Moore Hardy and Gilbert Hardy in North Carolina. He has one sibling, Matt Hardy, and they are both into the sport of wrestling. His mother, Ruby Moore Hardy, died from brain cancer in 1986.
Like his daring style of wrestling, he loved racing with bikes from his childhood. Bike racing is adrenaline-pumping, but young Jeff Hardy got joy doing it. At only 13 years old and in the ninth grade, he partook in a bike-racing tournament.
Jeff Hardy also played baseball while growing up. However, he had to quit after he broke his arm during a bike racing competition.
Jeff Hardy attended the Union Pines High School in North Carolina. He loved art and learning about the history of the United States of America.
While in high school, he had discovered his passion for wrestling. This passion pushed him to compete in amateur wrestling. He participated in other sports like football, where he played as a linebacker and fullback. However, his love for wrestling superseded all.
This love for wrestling made him make the easy choice of dropping other sports to become a professional wrestler.
Unlike his brother, Matt Hardy, Jeff Hardy doesn't have a record of attending college or university.
Relationship
Jeff Hardy is currently married to Beth Britt. He first met Beth in 1999, and they started dating. He also dated Mickey James, but he eventually got married to Beth on the 9th of March, 2011.
The couple had their first daughter before officially getting married. Their first daughter, Ruby Claire Hardy, was born on the 19th of October, 2010.
Their second daughter, Nera Quinn Hardy, was born on the 31st of December, 2015.
The couple is still together, as at the time of writing this.
Professional Wrestling Career
Jeff Hardy uses his real name as his ring name, but he has several nicknames. Jeff Hardy started his wrestling career early in life and got into the world of professional wrestling, aged only 16. Although, he didn't enjoy a great start to his professional wrestling career, as he lost most of his bouts at the start. Especially from 1994, up until 1997.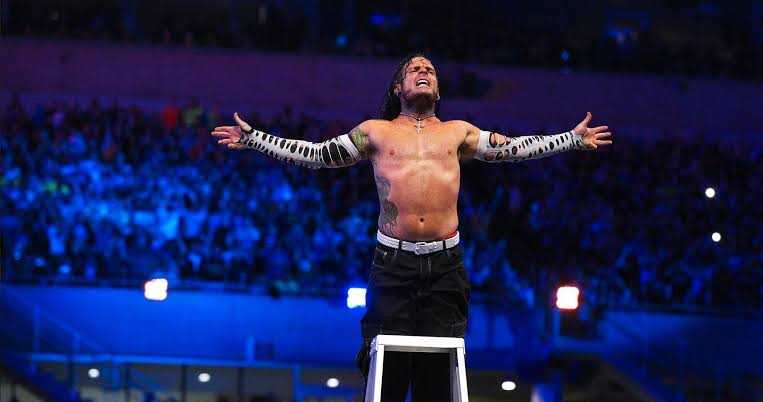 Jeff Hardy signed a contract with the WWF (World Wrestling Federation), which later became the WWE (World Wrestling Entertainment), alongside his brother in 1998.
However, his contract got suspended on the 22nd of April, 2003. Due to drug-related offenses and unofficial conduct.
He joined TNA (Total Non-Stop Action Wrestling) on the 23rd of June, 2004. Where he fought A.J. Styles on his debut.
He returned to WWE on the 4th of August, 2006, and he marked his return with a victory against Edge. He went on to defeat John Morrison a week after his return, to win the Intercontinental Title (his second).
Some of his achievements include,
Champion of the United States WWE Championship
WWE Championship winner
11 time Tag Team Champion
European Championship winner
2 time World Heavyweight Champion
4-time Intercontinental Championship winner
He also has personal awards to his name. They include,
The year 2000 Best Flying Wrestler
Two Slammy awards
The year 2000 Tag Team of the year winner
2008-2009 Extreame Moment of the year winner
His rang names include,
The Charismatic Enigma
Brother Nero
The legend thriller
The artist daredevil
Iceman
Willow the-wisp
The masked mountain.
He has several moves, but his signature moves include,
Twist of Fate
Spine Line
Reverse of Fate
Swanton Bomb
Twist of Hate
Jeff Hardy's entrance song is Endeverafte's No More Words
Lifestyle
Jeff Hardy drinks Alcohol but it is not on record that he smokes. He also has some favorite things like everyone else.
His favorite wrestlers are Ultimate Warrior, Shawn Micheals, and Sting. His favorite movie is American Beauty. His favorite singer is Pearl Jam. His favorite actors are Johnny Depp and Christian Slater. His favorite actress is Jennifer Love Hewitt. He loves the Scooby-Doo Cartoon character, and his favorite video game is Tetris. He loves eating Lasagna and Big Mac.
Jeff Hardy has a lot of love for music. He has a music career, and he is good at it. He has a couple of albums to his name. The plurality of worlds was dropped in 2013, and similar creatures dropped in 2012. He also created a band named PeroxWhy gen band in 2003.
Asides from music and wrestling, he also loves painting, the arts, and writing poetry. Outside his music recording studio, he built a 30-ft statue which further showcases his artistic side.
He loves good cars and in his car collections, you will find quite some cars. In his garage, he has the Chevrolet Corvette C5, Lamborghini Aventador, Nascar Replica Truck, and the Cadillac Escalade.
Jeff Hardy makes $1 million per annum
Controversies
Jeff Hardy has had his share of controversies, like his brother. On the 17th of September, 2008, he was stopped from taking his flight at Nashville International Airport, after officials found him intoxicated.
On the 11th of September, 2009, he was caught with a high amount of drugs. In his house, the police found 180 pills of Soma prescription, 262 pills of Vicodin prescription, anabolic steroids up to 555 milliliters, paraphernalia, and a good amount of cocaine.
He was arrested for the same offense on the 8th of September, 2011. This time he got a jail sentence and a $100000 fine.
He was arrested again on the 10th of March, 2018. This time for his involvement in an accident issue. The authorities revoked his driving license for 30 days.