Are you ready for some 'Stratusfaction'?
Born on December 18, 1975 (44 years old) in Toronto, Canada, Patricia Anne Stratigeas is the most gorgeous female wrestler, model, and fitness master. More than just her pretty looks, she is strong enough to knock anyone down, anywhere. So better not mess with this stunning Diva.
Tritish Stratus Early Life
Stratigeas grew up in Ontario, her hometown. She took up biology and kinesiology as her majors at York University. It all started when she was offered to shoot for MuscleMag Magazine in a local gym where she worked as a receptionist. She gradually got recognized for her pretty looks and well-maintained body–the onset of her modeling career.
Stratigeas was a fan of wrestling right from her childhood when she used to look up to her favorite wrestlers, Hulk Hogan and Randy savage. She had this fire in her so she joined Big Daddy Donnie & Jeff Marek to host the show called 'Live Audio Wrestling' on the radio. The World Wrestling Federation (WWF) got mesmerized by her beauty and they asked her to sign a multi-year contract with them. Ron Hutchison trained Stratus on the request of WWF.
Tritish Professional Wrestling Career
WWE
Stratigeas first appeared as 'Trish Stratus' in Sunday Night Heat in March 2000, as a heel. Later that night she became the tag team T & A's, valet. June 22 episode of SmackDown marks her debut as a wrestler in the ring by winning a 'Tag Team Match' with T & A. She knocked out Hardy Boyz and Lita. On July 24, Lita and Stratus fought in an Indian Strap Match that resulted in Stratus's victory.
Later in 2001, Stratus started a sexual storyline with WWF's chairman Vince McMahon. But this riled up Vince's daughter, Stephane McMahon. It had to end in the ring one day or another, so Trish and Stephanie came face to face on February 19, but it got called-off due to interference by Steve Austin. They gain faced off each other at No Way Out, where Stephanie scored the win. The storyline continued until WrestleMania X-seven when Stratus Slapped Vince.
Women's Championship
Stratigeas got an ankle injury later that summer which halted her on-screen romance with Jeff Hardy. During the three months of healing, she co-hosted 'Excess' on TNN. Stratus returned to the ring with a bang and won her WWF championship in a six-pack challenge. Later stratus got involved in a rivalry with Jazz over the Women's Championship. Fought several matches to regain her title but failed every time until she fought against Jazz in a tag team match with Bubba Ray Dudley. This reign ended when Trish got smashed by Molly Holly on June 23. This was the onset of yet another interesting storyline between Trish and Molly, which ended at 'Unforgiven' where Trish snatched the title for the third time. Meanwhile, a new rival, Victoria, came forth who blamed Trish to have betrayed her in the past. They kept fighting for several months. In December 2002, Trish participated in an intergender Tables match against Victoria's team, only to win the match. Victoria came back at her on March 17, 2003, with Steve Richards and defeated Trish and Jazz. Later Jeff Hardy came to help Trish and kissed her, making Trish his girlfriend once again. But it all ended when WWE released Jeff in April, leaving the storyline hanging in the middle.  
Trish ended her rivalry with Victoria in WrestleMania XIX and captured her fourth championship.
Rivalry with Lita 2003-2005
Trish lost against Kim and Molly in several matches so she teamed up with Lita and took her revenge. Later Trish started dating Chris Jericho, but she overheard him saying something sexually assaulting to her and Lita, and then Lita and Trish confronted Jericho and Christian in a 'Battle of Sexes'. The romance continued until WrestleMania XX, where she betrayed Jericho and sided with Christian.
On June 13, Trish won her fifth WWE championship and defended her title very well until a match with Lita on December 6. Trish was nowhere near giving up; she again captured the title at New Year's Resolution and Lita ended up with an injury.
Micki James and Semi-retirement
Trish had to take four months off from WWE due to an injury at Backlash. On her return in Raw in 2005, September, she fought Vince's Devils. Micki James, a newcomer was also involved. Their feud was the kind of rivalry that helped both of them grow in the ring. James looked up to Trish to the point that she became obsessed with her. This gave rise to an odd relationship. In WrestleMania 22, Trish lost her championship to James (448-days Reign). This match is the most popular and exciting women's match in the company. Later at Backlash, Trish suffered a shoulder injury which forced her to rehabilitate for three weeks.
On June 26, Stratigeas returned in the ring once again to face James but she lost and this marked the end to their 9-month rivalry. Later the same night, Trish got involved in yet another romantic storyline with Carlito. They fought and won many matches as a couple and defeated Melina, Nitro, Lita, and Champion Edge. Trish won her seventh Championship in her hometown in a match against Lita. This marked her WWE journey's end and she retired as the most victorious woman in WWE's history having seven championships.
In later years, Trish made several surprise appearances and kept on showing up in the ring including WrestleMania XXVII and "Tough Enough". She teamed up with Lita and fought against Alicia Fox and James, her old rival. She also had a fierce face-off with Charlotte Flair later in 2019, which may be her last match ever.
Personal Life
Trish is happily married to Ron Fisico since 2006 and they have two children Melissa Stratigeas and Christie Stratigeas. She runs her Yoga Studio and works as a fitness trainer.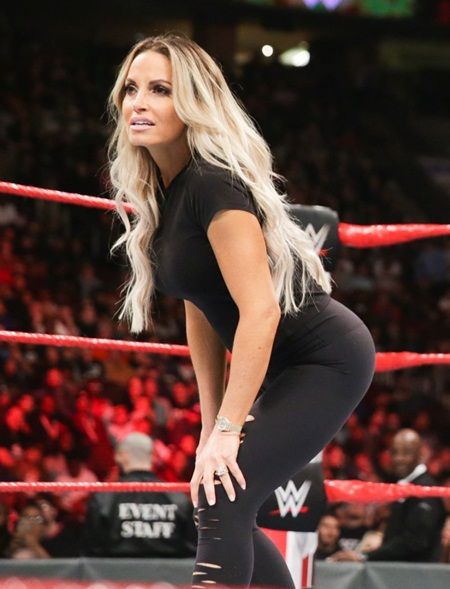 WWE Achievements
Diva of the Decade
Babe of the year
WWE Women's Championship (7 times)
WWE Hardcore Championship (1 time)
Famous Moves
Stratusphere
One-handed bulldog.
Running bulldog
Ma-Trish
Spinebuster