Alexa Bliss, a professional wrestler who has one of the most intriguing storylines in WWE, is known to be "Harley Quin" of the WWE universe. She is a total blast in the ring! Her real name is Alexis Kaufman and was born on August 9th, 1991, in Columbus, USA. From an early age, Alexis showed athletic prowess and exceptional talent. Since she was "five", she has been competing in different sports and participating in various sports events, namely kickboxing, softball, and track. A talented gymnast, she also performed cheerleading at Hilliard Davidson High School. Taking it a step further in college and reaching the Division 1 position at the University of Akron.
Prior to wrestling, she had a bodybuilding career. She competed in many competitions, even the famous Arnold Classic. Alexa was strong right from the start and showed her perseverance at the age of 15 when she was diagnosed with a fatal eating disorder. She overcame it by competing in fitness competitions and maintaining a healthy lifestyle. Great people know how to overcome the greatest of trials.
WWE Wrestling Career
The hot and sinister personality of "Alexa Bliss" you see in the ring is not the same as it used to be at the start of her career. Her persona morphed drastically with time. Her first appearance was of a cute cheerleader having a liking towards everything sparkly. Eventually, she embraced her dark side and became the "Bad Ass" we know today and love dearly.  A sort of evolution that made her the devious of all the divas.
Kaufman was discovered by WWE in mid-2013 and started her wrestling career with WWE NXT. Initially, she hosted different wrestling events. Announcing NXT champions. Later she was assigned the ring name "Alexa Bliss" and why not? She's actually a bliss for all the wrestling fans. In 2014, she played a role in Triple H's entrance. Her first actual wrestling match was on May 8, same year when she wrestled with Alicia Fox, the Divas Champion at that time, and that too in the first match. It was a tournament, a battle for the NXT Women's Championship. She got defeated by Charlotte in the semis.
She fought many strong contenders. In 2015, she won against Carmella after the NXT Tag Team Wesley Blake and Buddy Murphy caused a distraction. It was the start of a more sinister 'Alexa' in the ring. The one who fought to get results by any means necessary. Later that year, on NXT Take Over: Unstoppable, Alexa helped the duo Blake and Murphy retain their NXT tag team championship.
Blake and Murphy had a rematch with The Vaudevillians but this time Blue pants stopped Alexa from creating a distraction. Alexa defeated Blue Pants in a single match on an episode of NXT (Sep 10th). Later in 2015, Alexa remained in a quarrel with Bayley over the NXT championship. They finally faced off in the main event on Nov 18 but lost the title. This made Alexa hungrier to be the best.
In 2016, the famous trio Blake, Murphy, and Bliss, was disbanded. She competed in a three-way match featuring Nia Jax and Carmella. It was for Asuka's NXT champion belt. Jax won eventually. Her last match in NXT was a tag team battle starring Daria Berenato and Mandy Rose, in which they were beaten by Carmella, Liv Morgan, and Nikki Glencross.
By this time Alexa Bliss was a seasoned fighter and ready to rumble. She was drafted in WWE SmackDown. On July 26, she achieved her first victory against the famous Beck Lynch on August 9, SmackDown, proving her dominance in the ring. On Sep 11, at the event Backlash, bliss competed in a "Six-pack elimination challenge" in which she lost. This pushed her to the limits and later that year she fought in a "fatal five-way match" to earn the title against Becky at the "No Mercy" event. But Becky got injured and the match was rescheduled in which Becky remained successful.
Finally, the fateful day came when everyone got to see the wrath of Alexa Bliss aka Harley Quin of WWE. On Dec 4, at TLC (Tables, ladders, and chairs), Bliss destroyed Lynch to become the SmackDown Women's Champion. Lynch, being her long-time adversary, once again came face to face with Bliss on Jan 17, 2017, in a deathly steel cage match. With the distraction that Mickie James made, Bliss defended her title.
Next month Bliss dropped the title to Naomi at Elimination Chamber. Later that month, Alexa fought for the title against Becky, after Naomi left the title vacant due to injury. Alexa won the championship.
Naomi later after being recovered, snatched the title back from Alexa in a Six-pack challenge at WrestleMania 33.
In 2017, Alexa Bliss got a shot in Superstar Shake-up, fighting off against Raw Women's Champion Bayley. On April 30th, Alexa made history by defeating Bayley, becoming the Raw Women's Champion during the process.  Alexa Bliss proved herself in the wrestling universe and became the first woman to win both Raw and Smackdown championships. During later years Alexa continued to appear in the ring and spread her charm.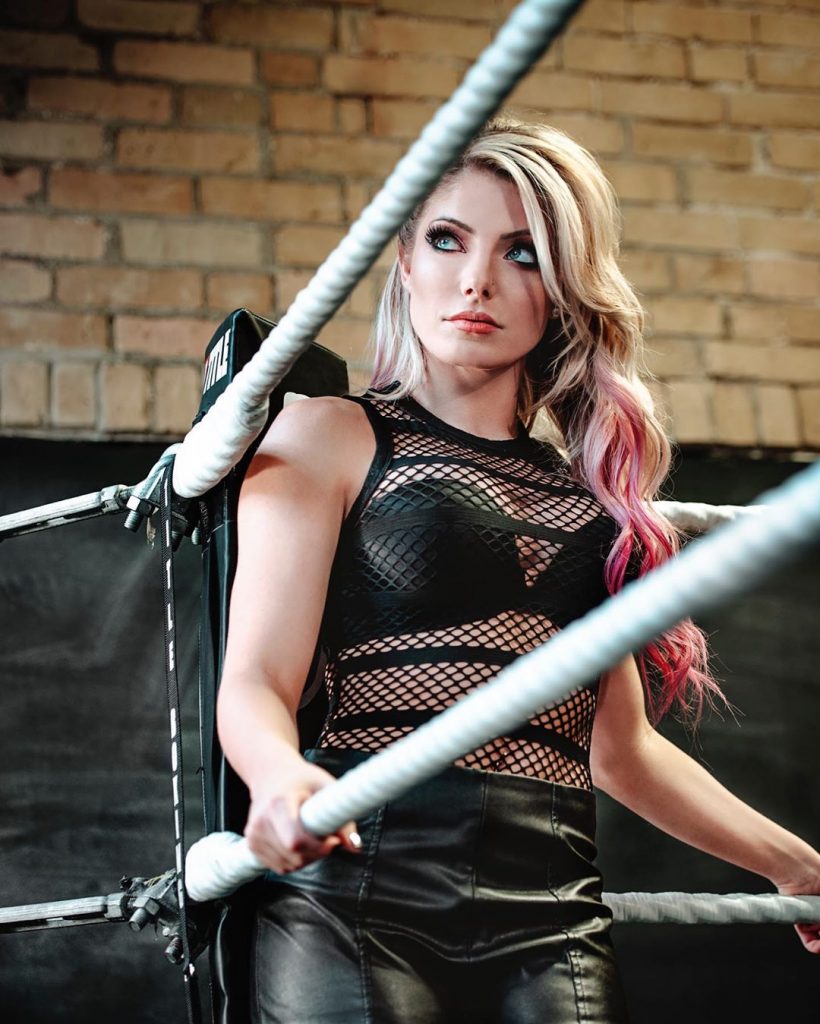 Alliance with The Fiend
Alexa started to show her true colors at The Horror Show at Extreme Rules, she appeared during the cinematic match between Brayan Wyatt and Braun Strowman. During the thrilling performance, Wyatt used Bliss's image to distract Strowman as he had affection for her. Since then Bless has been involved in a storyline with these two. She was attacked by the Fiend, alter ego of Bryan Wyatt. Their involvement becomes stronger in the coming years where she was enchanted by "The fiend" and used his signature move, Sister Abigail. They are both drafted in the 2020 Raw brand.
Accomplishments in a Nutshell
WWE Raw Women's Champion-3 times
WWE SmackDown Women's Champion- 2 times
WWE Women's Tag Team Champion- 2 times with Nikki Cross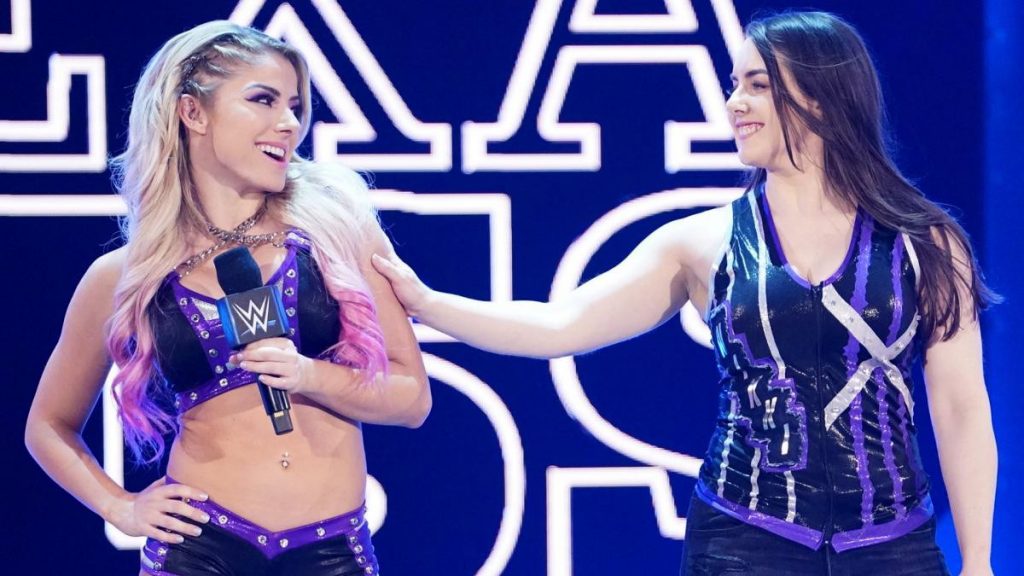 Finishing Moves
Neck Wrench
Crucifix pin
Twisted Bliss
Sister Abigail
Personal Life
A Disney fan and princess at heart. Her family used to go to Disneyland every year despite their tough financial situation. She is a great cosplayer and her wrestling outfits are inspired by comic and movie characters. Famous of which are Freddy Krueger, The Riddler, and Harley Quin. She has mentioned on multiple occasions about Trish Stratus and Rey Mysterio as her inspirations. An animal lover and also has a pet pig named Larry Steve.
Kaufman had her share of breakups. She was happily engaged to wrestler Buddy Murphy until, 2018 when their engagement broke. But boys, don't get your hopes high as she started dating a singer Ryan Cabrera early this year.