Popularly known as John Cena in the world of wrestling and entertainment. John Felix Anthony Cena Jr. is a renowned Professional American Wrestler. He is also an actor and a rapper. John Cena has several titles to his name in the world of wrestling. He became famous for his performances in the WWE. He has held the WWE Heavyweight belt 9 times.
John Cena began his journey in the world of pro wrestling in 1999, under the UPW (Ultimate Pro Wrestling)
He was born in West Newbury, Massachusetts, United States of America. He was born on the 23rd of April, 1977. He is fourth on the list for the number of days spent as the WWE Heavyweight Belt holder. He is only behind Sammartino Bruno, Backlund Bob, and Hulk Hogan.
Personal Life
John Cena's parents are John Cena senior and Carol Cena. He is one of the five sons born to this couple. He has a mixed background, thanks to his parents. His mother's roots make him English-Canadian, while he has Italian roots through his father.
John Cena was born with a highly dangerous condition. His umbilical cord was wrapped around his neck, three times. However, John Cena miraculously survived this dangerous condition and it had no long term effect on him.
John Cena grew up in a Catholic household, and he attended a Catholic School (Central Catholic High School. He then attended Cushing Academy.
John Cena went to Springfield College, where he played American Football. John Cena's grandfather sparked his interest in sport from his childhood. His grandfather is Tony Lupien, and he played baseball professionally, representing several teams in Major League Baseball.
John Cena was a good football player, and he wore jersey number 54 during his playing days in college. He also got into the All-American team of the NCAA Division III due to his good football skills. He played the center position in this team.
After John Cena graduated from college in 1998, he became a bodybuilder and went on to complete his degree in Body movement and exercise physiology. While doing this, he also worked as a Limousine Driver.
John Cena had always had a thing for lifting weights. This interest had been there as early as when he was 12 years old. This made him request for the gift of a Weightlifting bench from Santa. A wish that eventually came to pass.
Relationship
John Cena has had several affairs. He dated Lisa Marie in 2002, before dating Barbie Blank and A.J.Brooks, both in 2012. In 2013, he dated Nikki Bella.
In 2009, John Cena married Elizabeth Huberdeau. However, the couple ended up getting a divorce in 2012.
Currently, John Cena is dating Shay Shariatzadeh, a Canadian. He doesn't have a child as of the moment of writing this.
Professional Wrestling Career
John Cena adopts his real name in the ring, but he has several nicknames. He is called The Champ or the Doctor of Thuganomics in some cases.
John Cena started fighting at the pro level in 1999. He joined the Ultimate Pro Wrestling and didn't take long before he announced himself as the real deal. He won the Heavyweight Championship belt under UPW. His UPW contract expired in 2001.
In the same 2001, John Cena signed a contract with the WWF (World Wrestling Federation), which later became the WWE (World Wrestling Entertainment).
He won many honors in the WWE. From 2001 to 2016, he had 24 championship belts under the WWE.
Some of his achievements in the WWE include,
9 World Heavyweight Belts (WWE)
2 Tag Team Championship Belts
3 World Heavyweight Belts
2 World Tag Team Championship Belts
John Cena is a WWE legend. He is fourth on the list for the highest combined number of days spent as World Heavyweight Champion in WWE. Wrestling legends that hold the first three positions are Bruno Sammartino, Backlund Bob, and the great Hulk Hogan.
John Cena has fought across two decades in the WWE and he is a fan favorite. He has participated in the Royal Rumble Match several times, winning it in 2008 and 2013.
He also won the Money in the Bank fight in 2012 and has won the Slammy Awards 10 times.
His ring names include,
Doctor of Thuganomics
The Champ
He has several moves, but his signature moves include,
Attitude Adjustment, formerly known as FU
The Stepover Toehold Facelock, known as STF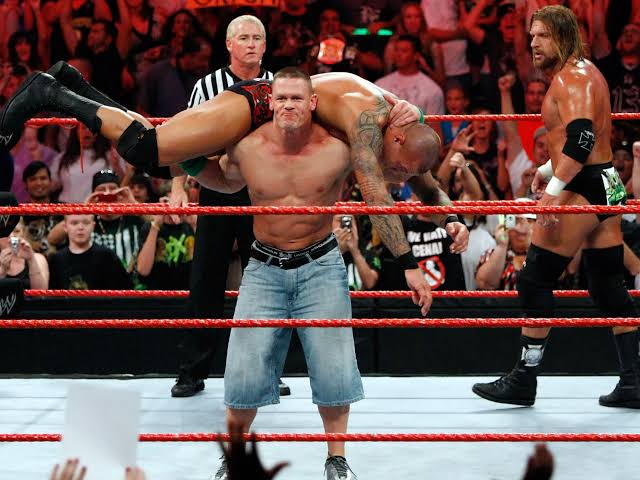 John Cena's entrance song is titled My Time is Now. The song is a rap song, composed and rapped by Cena himself.
Lifestyle
John Cena drinks Alcohol but he doesn't smoke. He also has some favorite things like everyone else.
His favorite wrestler is Roddy Piper. His favorite movie is the animated series – Tropic Thunder, Fist of the North Star. His favorite hip hop artist is Jay-Z.
John Cena's favorite things to do when he is not in the ring are – playing football, video games, and basketball.
He loves good cars and in his car collections, you will find quite some cars. In his garage, he has the 1970 AMC Rebel Machine, the 1966 Dodge Hemi, the 1971 Ford Torino GT, 2006 Ford G., 1971 Plymouth Road Runner, and the 2007 Ford Mustang Saleen Parnelli Jones (A Limited Edition).
Outside of wrestling, he is a rapper and actor. He has acted in some movies – 12 Rounds in 2009, The Marine in 2006, Legendary in 2010 among several others.
He released a rap album, which he titled "You Can't See Me". This album featured his cousin, Tha Trademarc, and was recorded under WWE Records. The album had over 143,000 copies sold in the first week and it reached number 15 on the Billboard 200 when it debuted.
John Cena has appeared on several TV shows, including Deal or No Deal, Manhunt, Saturday Night Live, MAD TV, Psych, Parks and Recreation, and Punk'd.
John Cena is reported to worth about $35 million.
Controversies
John Cena has not had many controversies in his career. But in 2009, he made a controversial statement about The Rock that displeased the fans. He claimed The Rock jumped at the first opportunity of another career after claiming he is all about WWE.