Saraya Jaid Bevis, popularly known by her ring name, Paige, belongs to a popular professional wrestling family. The talent of wrestling is in her genes and the will to fight runs through her veins.
Born on 17th August 1992 (27 years old), in Norwich, Paige grew up watching her family members wrestle, fight, and get injured. In her childhood, Bevis used to get frightened at the sight of her injured parents but gradually this fear morphed into the desire to learn wrestling and prove herself in the ring.  She was trained by her parents Julia Hamer Bevis and Patrick Bevis and her brothers namely Zak Frary and Roy Bevis, who also run a "World Association of Wrestling (WAW)" promotion in Norwich. When she turned 10, Bevis started to attend her father's training school for fun and loved to jump in the ring to fight her older brothers.  Later at the age of 13, Bevis debuted in WAW by the ring name 'Britani Knight'. From this point onwards, the sky became the limit for this young girl, and she went on to bag many prestigious awards and titles. At 15, she worked as a bartender, working in her parents' pub while they were absent. She graduated from Hewett School, Norwich in 2008.
The Bevis family is very interesting, and this is depicted in the documentary made by Channel 4 in 2012, "The Wrestlers: Fighting with My Family", which revolved around the WWE career of Paige and how she struggled to reach the top.
Wrestling Career
European Independent Circuit (The beginning)
Bevis started her career at WAW. Her first official match was recorded in 2006 in which she fought side by side with her mother Saraya, only to lose in the triple threat tag team. The match was against Destiny and The Pink Lady. Later in 2007, Bevis (Britani Knight) took part in a WAW Championship Tournament in the hopes to become the British Champion, but unfortunately, she lost to Jetta in the final match. Jetta proved to be a formidable competitor for her even in RQW Women's Championship that took place in 2008, resulting in Knight's failure in a three-way match against Jetta. Bevis did not give up and kept fighting for her rightful place until 31st August 2009, when she defeated her mother in the three-way match and secured the WAW British Championship. Bevis's mother proved to be a great mentor and inspiration along her wrestling journey. Not to mention, a powerful competitor. In 2010, Knight again defeated her mom to win the 'one-night ladies tournament'. WAW provided many opportunities for Knight to improve herself and make her name. In 2011, she became the WAW hardcore Champion but lost her previous British Championship Title to Liberty.
Between 2006-2008, Norfolk Dolls gained popularity. It was a professional tag team consisting of Bevis and Melodi. Although they faced defeat in their first match against Nikki Best, they started to win tag team competitions and even made a big victory streak. Norfolk dolls became WAW's first Tag Team Champions by defeating Legion of Womb. The last match they played a team was against Sweet Saraya and Bulla Punk which they lost.
Pro-Wrestling: EVE
In May 2010, night stepped into European All Female Promotion with her mother. In the beginning, she faced difficulties in winning the matches. First, she lost to a Greek wrestler Blue Nikkita and later lost to er rival Jetta. It was in October 2010 that she bested Shanna. In the next year, in April, she bagged the Pro-wrestling Eve Championship. In this tournament, she defeated Jenny Sjoden, Jetta, and Nikki Storm. But, on the 4th of June, she lost the championship to Sjoden.
Shimmer Women Athletes
In 2011, Knight made her debut in the US by stepping in Shimmer Women Athletes with her mother. The mother and daughter called themselves 'The Knight Dynasty'. They won their first match against Ariel and Nikki Rox. However, they lost the Tag Team Championship in the next match against Seven Star Sisters. The knight dynasty was having trouble gaining a foothold and lost another match for the tag team championship in which Saraya slapped Knight. The incident resulted in a fight between the two and consequently, Knight won against her mom.
WWE
Bevis started her WWE journey in 2011 when she signed up for WWE's developmental territory, "Florida Championship Wrestling (FCW)". Here, her ring name changed from Knight to Paige and she made her first debut as 'Paige' on 26th February FCW TV episode. FCW was later renamed NXT. Paige's wrestling journey in NXT is amusing starting from September 2012, as she went on to defeat all her rivals from FCW including Audrey Marie, Sasha Banks, and even Alicia Fox. Later on January 30th's episode of NXT, Paige began her feud with Summer Rae who was apparently jealous of Paige's success. But Paige got defeated by Rae and had to take a month off due to a serious injury. On returning, Paige teamed with Sasha banks and knocked out Rae and Audrey's Team. And on the 1st of May, Paige defeated Summer Rae. The journey continued and on July 24th, Paige crowned the first NXT's Women's Champion.
The feud with Rae continued but Paige did not back down and defended her title. On April 24th, 274 days of reign ended as JBL, the general manager of NXT forcefully stripped the title off her.
Divas Championship
In 2014, in a RAW episode, Paige made a debut on the main roster. At that time AJ Lee was the Divas Champion but Paige challenged her and defeated her to snatch the title. Paige became the youngest (21 years old) woman to hold two championships at one time, WWE Diva championship and NXT championship.
Paige kept her ground and retained the title until 30th June when AJ Challenged Paige and on the request of the live audience, Paige accepted to match only to lose the title. Their feud continued and later again on her 22nd birthday, Paige came face to face with AJ Lee for the title and destroyed AJ Lee using her favorite move, Ram-Paige.
Famous Attacks
Superkick
RamPaige
Paige Turner
Powerbomb
Headscissor Takedown
Fisherman Suplex
Accomplishments
NXT Women's Championship
PWF Ladies Tag Team Championship (With Saraya)
Pro-Wrestling: EVE Championship
RQW Women's Championship
WAW British Tag Team Championship
WWE Divas Championship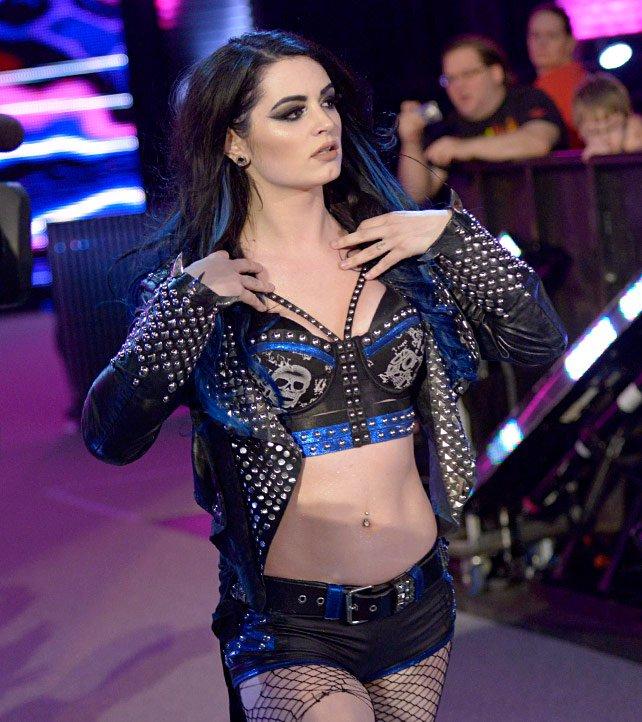 Paige has faced my hardships and life-altering situations in her life but now she is happily living with musician Ronnie Radke. Paige also runs her online business of cosmetics and apparel. She is still a part of WWE and works as a panelist.