Rebecca Quin, the fiery redhead who is more popularly known by her ring name "Becky Lynch", is the biggest name in the WWE Women division. Her ruthless persona, un-matched power, and athleticism have made her the greatest name of all. Born in 1987, Jan 30 (age 33), she was raised in Dublin. Her parents got separated when she was young. According to Becky, her inspiration for wrestling comes from her childhood memories of enjoying professional wrestling with her brother, Richy.
Her brother became a wrestler and went by the name "Gonzo del Mondo". Rebecca was fond of sports from an early age and cited that she loved horse riding, swimming, and basketball. Surprisingly, being such a sportsperson, she ended up failing P.E in school.
She attended Quin University and studied philosophy and politics, but was least interested in these subjects and dropped out. Becky plans to resume her studies and wants to major in interesting subjects such as health and exercise studies.
Without struggle, there is no success. Prior to wrestling, Rebecca stated that she was struggling to keep up with everything and went down the dark path of alcohol abuse. But professional wrestling helped her channel her energy into more productive things.
Unlike some of the other divas, wrestling has always been the main thing for Becky. She started wrestling in Ireland, teamed up with her brother under the ring name Rebecca Knox. Later, she explored the wrestling world and went to Europe and North America. She competed in many competitions there.
Most notable is her performance in Elite Canadian Championship Wrestling. In 2005, she became the inaugural SuperGirls Champion. She stunned everyone with her powerful wrestling moves and swift submissions. In 2006, in some event, she got injured badly in the head which resulted in long hiatus.
2012 was the year when the Queen once again stepped in the ring to claim what was rightfully hers. She signed the contract with WWE. There was no stopping her now as she became an inaugural SmackDown Women's Champion at Backlash 2016. She reined for 3 consecutive years.
Her popularity grew rapidly. Fans loved to see her stage. Her beauty and strength mesmerized the audience. By this time, she transitioned towards a more aggressive persona which of course became a fan favorite. Becky Lynch made it clear from the start that no one can dare to mess with her.
Wrestling Career
Training Days
No athlete can reach the top without enduring painful training. During her teenage, she trained in a wrestling school in Ireland. Later competed in a tag team matched with her brother. Later, she also went to British professional Wrestling Promotion. She wrestled in many professional events. All over Europe and Japan as Rebecca Knox. Displaying her epic fighting skills and wrestling prowess. She suffered a legitimate head injury win an event in Germany which resulted in six-year hiatus from the wrestling world.
In 2013 she signed a contract with WWE. She debuted as Becky Lynch on 26 June 2014 on an episode of NXT and pulverized Summer Rae.  Charlotte Flair gave a tough time to Becky. Both divas fought each other in non-title matches. Becky lost all three of them. Following in October on an episode of NXT, she was told by management to spur up the crowd. She turned heel and aligned with Sasha Banks.  She fought Bayley and established a tag team called B.A.E (best at everything). She fought in NXT TakeOver: Rival in  "Fatal Four-Way Match". The match was thrilling and deadly.  Becky finally defeated Bayley and Charlotte in a triple threat match and became worthy of contesting the champion, Sasha.  The fight happened in "NXT TakeOver: Unstoppable". The match was as exciting as it can get. Both divas gave epic performances and were praised by the critics.
In the match, she changed her outlook and it resembled a character from a popular card game "Magic: The Gathering".
RAW
Her entrance into the RAW division was a result of her widespread popularity. She became a fan favorite. It was a revolution called upon Stephanie McMahon. Something crazy started brewing up. The longtime foe Becky and Charlotte teamed and allied with Paige. Paige was in dispute with "Team Bella". On the other hand, Sasha Banks allied with Naomi and Tamina. The power balance got disturbed and conflict was bound to happen between the three teams. Lynch's team was named the "The PCB". After that three teams brawled with each other from time to time.
Her thrilling display of dominance came on the "Main Event" where she won her first victory in a singles match against Brie Bella.
SmackDown Women's Champion
Her journey to become the champ was nothing short of extraordinary. On September 11th at BackLash Lynch triumphed in the "Six-pack elimination challenge" and became the inaugural SmackDown Women's Champion. She competed in multiple matches following that year.
From 2018-2019 we say a new side of Becky Lynch. On "SmackDown" she blamed the crowd for not supporting her enough and the WWE management. She said she is being denied opportunities and Flaire is getting all the hype.
This resulted in a feud between the two and a title fight at "Hell in a Cell". Lynch destroyed Charlotte and won SmackDown Women's champion again. She dubbed herself as "The Man" is the best of the best.
Accomplishments
Lynch made history by holding both titles WWE Raw and SmackDown Women's Championship together.
CBS Sports
Best Moment of the Year (2018) – She attacked Ronda Rousey on Raw
WWE Match of the Year (2018)
Pro Wrestling Illustrated
Ranked No. 1 of the top 100 female wrestlers in the PWI Female 100 in 2019
World Queens of Chaos Championship (1 time)
Sports Illustrated
Women's Wrestler of the Year (2018, 2019)
Wrestling Observer Newsletter
Worst Feud of the Year (2015) Team PCB vs. Team B.A.D. vs. Team Bella
WWE
WWE Raw Women's Championship (1 time)
WWE SmackDown Women's Championship (3 times)
Women's Royal Rumble (2019)
WWE Year-End Awards (3 times)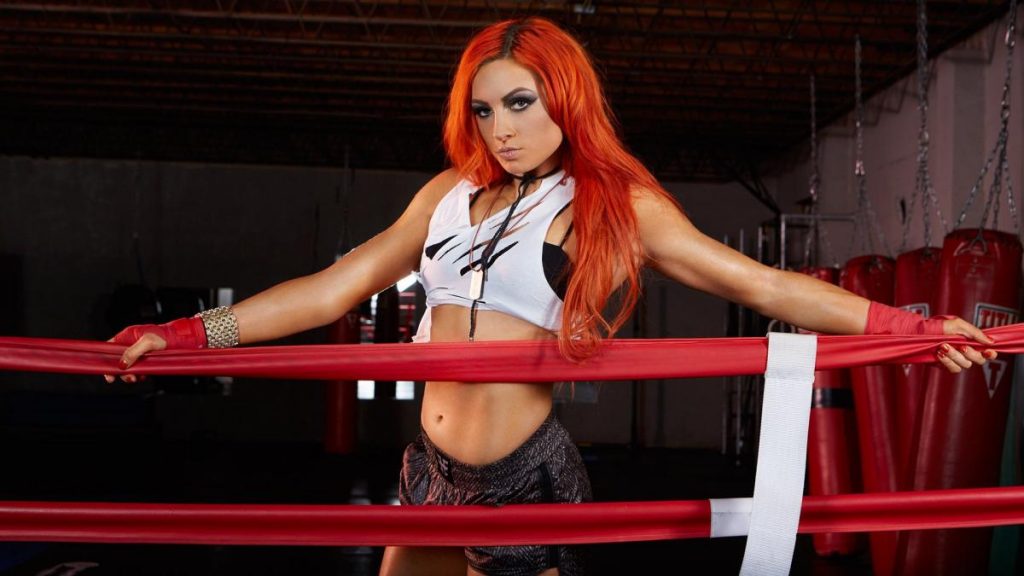 Personal Life
This may shatter the hopes and dreams of her fan base, but Becky is engaged to Colby Lopez more popularity knows as Seth Rolins. She got married this year. Currently, she is on a hiatus as she is expecting her first child later this year.