Ronda "Rowdy" Rousey, one of the few people who conquered whatever they set their mind to. A martial artist, an actor, a model, and a professional wrestler. From fierce showdowns of judo in Olympics to thrilling submissions in wrestling rings, and phenomenal performances in Hollywood, she has done all.  A champ even before she entered the WWE ring. Born on Feb 1, 1987 (34 yrs.) in Riverside, California. She started her career in Judo and 2008, went on to become the first American woman to ever win an Olympic Medal in Judo. Later she stepped into a more ruthless world of Mix Martial Arts (MMA).  She became UFC Women's Bantamweight Champion and defended her title 6 times in a row, creating history in the process. The Queen went on to conquer other territories and in 2018 her fans witnessed Ronda debuting in WWE Arena.
Career
Ronda's entrance into the WWE universe was dramatic. She was a fan of WWE from a very early age. From 2014 to 2017 she used to attend WWE matches as a guest and sat on a front row to gaze upon thrilling action. Together with three other martial artists Shayna Baszler, Jessamyn Duke, and Marina Shafir, she used to attend wrestling events. They called themselves "The Four Horsewomen".
The Four Horsewomen used to get acknowledged in commentary and had interviews post-match. Things changed in 2015 WrestleMania 31 when an argument between The Rock and The Authority heated the ring up. Stephanie McMahon slapped The Rock. The hype just got real, instead of reacting The Rock called upon Ronda from the audience. The monster just got unleashed. She stepped into the ring and knocked Stephanie out.
In 2017 a similar event took place when all four Horsewomen had a faceoff with the divas Charlotte Flair, Becky Lynch, and Bayley. It was the start of a long feud between the two groups. And fans couldn't get more excited.
Early in 2018, she made a surprise appearance in Royal Rumble, facing off three Divas, Raw Women's Champion Alexa Bliss, Smackdown Champion Charlotte Flair, and Asuka. She made her mark in the ring. She donned a black leather jacket(belonged to late Roddy) giving tribute to her inspiration "Rowdy" Roddy Piper.
2018 was a big year for Ronda. She got inducted into the UFC Hall of Fame and later that year she signed a contract with WWE. Ronda is a nightmare for her opponents, a nightmare that doesn't end. She adopted "Rowdy" as her nickname. A tribute to late wrestler "Roddy Piper". Fits right with her aura. Roddy has been an inspiration to her from childhood. Started her wrestling career in WrestleMania 34. On March 5, Rousey made her debut in an episode of RAW. It was a tag team match with Kurt Angle being her partner and once again faced Stephanie McMahon and Triple H. With her devastating armbar submission she defeated her foe once again. It resulted in praise from media and fans and dubbed as "one of the better debuts" in the WWE universe.
Like a storm that engulfs everything in its path, she put her foot down in the ring and became Raw Women's Champion at SummerSlam. As lioness doesn't let go of her prey, she defended her title from Nikki Bella at WWE Evolution.
Later that year she got challenged by, the then champion, Nia Jax. Ronda won the match by disqualification after the interruption by Alexa Bliss, who as mischievous as always attacked both the contenders and cashed her "Money in the Bank" contract to win the title instead. Her popularity grew and at that time the biggest sensation WWE universe was a woman.
In November, Lynch attacked Ronda backstage and things got messy. At the end of the year on December 16 at the event TLC; Table, Ladders, and Chairs, Ronda showed no mercy and pushed both Becky Lynch and Charlotte Flair off the ladder, helping Asuka win the SmackDown Women's Championship. Becky became the arch-rival of Ronda and two-faced off multiple times since then. Ronda challenged her at a title fight in WrestleMania 35.
The feud continued and after a backstage attack by Ronda on Flair and Lynch in retaliation to what they did to her. A three-way deathmatch was announced.
The hype was real, and all the fans were eager to witness the spectacular showdown. It became the main event in WrestleMania 35 and the first event to be closed by women wrestling. The event was converted to "Winners take all". The fight was intense. Lynch pinned down Ronda to win both titles, but it became controversial as Ronda objected. Anyhow, it was her first loss and resulted in losing the title. She reigned for 231 days as a Raw's Women Champion.
Other Media
Her journey was just getting started as she entered the glamorous world of Hollywood. She starred in the famous "The Expendables 3" in 2014. Not to mention her famous performance and fight in the action-packed "Furious 7" released in 2015. She became the first woman that got featured on the cover of Australian Men's Fitness. Her accomplishments have no bounds as she was the first female athlete to guest host ESPN's SportsCenter. She hosted the famous Saturday Night Live show on January 23, 2016. Her role as a prison inmate on the episode of Blindspot won her much praise.
In 2018 it was confirmed at she would be added to the WWE 2K19 video game along with veteran wrestler Rey Mysterio. She also appeared in video games before.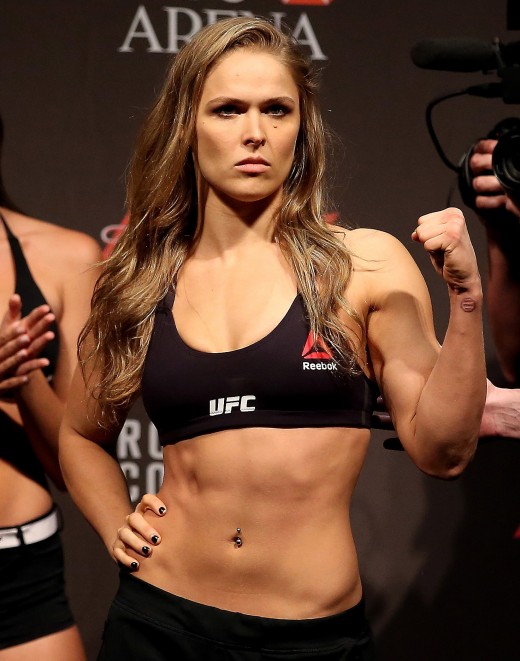 Special Moves
Armbar
Rushing Punch combination
Rope-Hung Cross Armbar
Flying CrossBody
Personal Life
She lives in Venice, California. She used to be vegan in 2008, but later cited on multiple occasions that she eats a mixed diet, but all things are organic. Had some rough school period and she says at that time practicing martial arts made you too masculine in the eyes of kids. She suffered from low self-esteem but quickly recovered as she got to understand that what she was doing and who she is, is bigger than these trivial opinions. She went on to become one of the most successful personalities in the world. Ronda Rousey married UFC fighter Travis Browne on August 27, 2017.