Even if you don't follow WWE or don't know much about professional wrestling, you still must have heard about the famous Bella. Nikki Bella, a stunner inside the ring as well as outside was born as Stephanie Nicole Garcia- Colace on Nov 21, 1983 (age 36 yrs). She has one of the most captivating storylines in the WWE universe. Her performance and athleticism bring life to the WWE women division.  Nikki got attached to WWE in 2007. She is a part of the famous duo "The Bella Twins" which consists of another stunner Brie Bella, her twin sister. Their shenanigans together have kept the wrestling world entertaining.
Nikki debuted in 2008 on the thrilling episode of "SmackDown". It got praised by the critics and loved by the fans. Bella has made history by becoming the longest-reigning WWE Divas champion won the title twice.
The glamorous girl you see on the stage used to be a farm girl, born in San Diego, California. Born 16 minutes earlier than Brie, she is the older one. She was raised on a country farm in the Phoenix suburb of Scottsdale. Half Mexican and half Italian. Nikki was passionate about soccer and together with her twin played for her elementary school. After graduating from high school, she moved around and lived in Los Angeles where she served as a waitress at Mondrian Hotel and searched for an agent meanwhile.
Nikki's talent is not limited to the ring as she modeled, acted, and did promotional work before stepping into the ring.
Nikki Bella – WWE Career
Nikki's debut in the ring can be described as comedic. It wasn't Nicole but Brie Bella (her twin) that rocked the stage for the first time. On August 29, 2008, on a scene of SmackDown, Brianna appeared as Brie Bella and crushed Victoria. She immediately started a rivalry with Victoria and Victoria's accessory, Natalya, and had a progression of matches against them. In each match, Brie would jump out of the ring and go underneath it, come out refreshed, and afterward dominate the game. Fans were confused and yet still got excited about this silly act.
On October 31st, in SmackDown, when Brie went under the ring Victoria got her legs, yet the second pair of legs kicked her off, inferring that another individual was under the ring. The next week on SmackDown, Brie got success against Victoria and afterward ran under the ring to get away from Natalya and Victoria, however, Victoria and Natalya both went after Brie under the ring, resulting in both Nicole and Brie being pulled out. This was the start of the Twin Magic that would dominate the Women Division for years to come. The twins at that point assaulted them and won the match. Nicole was then presented as Nikki Bella.
On March 17, on ECW, Carlito and Primo, focusing on Morrison and The Miz, coincidentally spat chewed up apple at Brie. Nikki started laughing at Brie's mishap, and a battle broke out between the two, which prompted Nikki to leave with The Miz and Morrison, while Brie remained with Primo and Carlito, with Nikki turning heel.
Nikki turned to the dark side which gained immense popularity among her fans. WWE universe just got exciting. Brie dominated her first game over Nikki in a six-person intergender tag team fight on SmackDown the next week. On ECW on March 31, the evil Nikki defeated Brie in their first singles match against one another, after a distraction from Morrison and The Miz.
On April 15, 2009, The Bella Twins were both drafted to the Raw brand as a feature of the 2009 supplemental draft. On April 27, Brie made her Raw in-ring debut in an eight-Diva tag fight, which her group won. Nikki likewise showed up, rejoining with her twin, as she was under the ring to help Brie during the match. Finally, the villainous Niki went back to help her sister.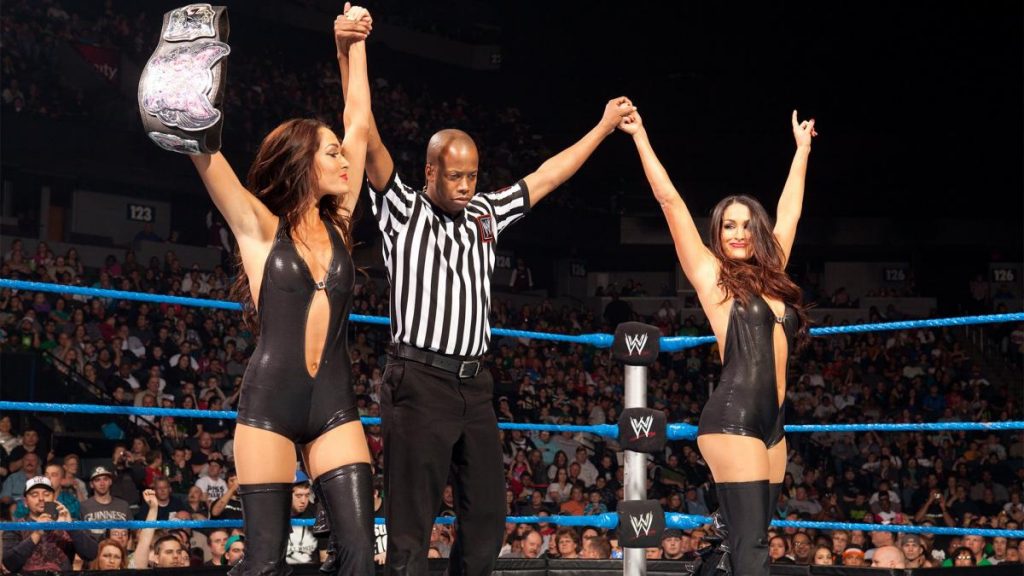 Nikki Journey to championship
The Bellas started fighting with Eve Torres after they showed up as "lumberjills" during a Divas Championship match among Torres and Natalya on February 14 on a scene of Raw. Following the match, they assaulted Torres backstage before Gail Kim and Natalya halted them. The following week, the twins vanquished Torres and Kim in a tag team match. The next week, Nikki won a fight and became the main competitor for the Divas Championship, but got defeated by Torres.
On April 11, Nikki helped Brie defeat Torres and win the Divas Championship. It marked the first time that Bella held the title.
The Return to WWE
Nikki got her championship against AJ Lee on November 23 at Survivor Series, which she won with Brie's assistance to become a two-time Divas Champion. The pair had united once again, with Brie also turning heel. Nikki at that point proceeded to hold her championship on three separate events – against Lee in a rematch on December 14, at TLC: Tables, Ladders and Chairs, against Naomi on SmackDown, and against Paige at Fastlane on February 22, 2015. Paige and Lee at that point shaped collusion against Bellas, which prompted a tag team match at WrestleMania 31, where Lee and Paige were triumphant.
On the September 14 scene of Raw, Nikki safeguarded her title against Charlotte, who pinned Brie after the twins had changed places to win the match; notwithstanding, since the title cannot change hands by disqualification, Nikki retained the championship, and simultaneously, became the new longest reigning Divas Champion in history, surpassing AJ Lee's record of 295 days.
Nikki lost the championship to Charlotte on September 20 at Night of Champions, ending her rule at 301 days, and failed to regain the title in a rematch on October 25 at Hell in a Cell.
Special Moves
Rack Attack
Tornado Arm breaker
Snap mare knee attack
Bella Spear
Double Leg Slam
Achievements
Pro Wrestling Illustrated
Ranked No. 1 of the top 50 female wrestlers in the PWI Female 50 in 2015
Rolling Stone
Diva of the Year (2015)
Teen Choice Awards
Choice Female Athlete (2016) – with Brie Bella
Wrestling Observer Newsletter
Worst Feud of the Year (2014) Brie vs. Nikki
WWE
WWE Divas Championship (2 times)
Slammy Awards (2 times)
Diva of the Year (2013, 2015) – 2013 award shared with Brie Bella
WWE Hall of Fame (Class of 2020)
Personal Life
Nikki loves donuts and red wine. Her favorite band is Red Hot Chili Peppers. At the age of 20, Nikki married her boyfriend Dolph Ziggler, but unfortunately, the marriage lasted for only three years. Later in 2012, Nikki started dating the all-star wrestler, John Cena. They were deeply in love with each other when at WrestleMania 3, Cena proposed to her and they got engaged in April 2017. However, the couple was having a rough time meeting each other's expectations which eventually led them to break their engagement and call off their wedding. It was hard for both, but it was for the better.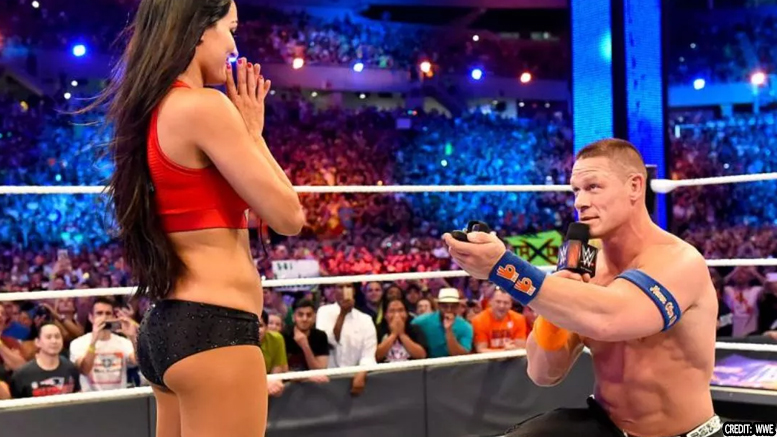 Niki is now happily engaged to a Russian dancer Artem Chigvintsev. She is also a mother of a handsome little boy named, Matteo Artemovich who was born on July 31, 2020.