Hailing from the land of samurai warriors, Asuka is a Japanese professional wrestler born as 'Kanaka Urai' in Osaka, Japan on September 26, 1981 (39 years). She completed her graduation from Osaka University of ARTS Junior College. Wrestling is just one of her numerous talents. She is also a graphic designer and loves to write. Asuka has worked as a designer for Nintendo DS and various other mobile apps. Urai's fashion sense is extravagant as can be seen by her flashy and impeccable outfits. She is the owner of a hair salon back in Yokohama.
Her athletic side is just as admirable as her artistic side. She was fond of sports from an early age, trained and competed in figure skating and badminton. Later she delved more into the thrilling universe of professional wrestling. She has quite a few ring names with Asuka and Kana being the most popular ones.
Start of the Career
Urai was a professional graphic designer before she was an amazing wrestler. Inspired by the likes of Antonio Inoki, Keiji Mutoh, and many other athletes originating from Japan. She decided to give professional wrestling a shot. After receiving the training from Yukki Ishikawa she debuted in all-female promotion AtoZ in 2004. Later her enthusiasm for wrestling grew and she did freelance work for promotions such as Ice Ribbon and NEO Japan Ladies professional. She won the NEO tag championship that was just the start of her amazing wrestling career.
From 2010 to 2015 she held self-produced events that went by the name "Kana Pro". Her journey continued as she continued to fight through the Japanese independent circuit.
WWE
Her talent and hard work brought her to the mainstream as she signed the contract with WWE in 2015. She made history by becoming the first-ever female Japanese fighter to work with WWE. Debuting in "NXT Take Over: Respect" Asuka won against Dana Brook. Her popularity skyrocketed from her performance at "NXT Take Over: London" where she stood victorious against Emma.
She became the Champion by defeating Bayley at NXT TakeOver: Dallas. The queen then successfully defended her title against the Nia Jax. By the words of Triple H (NXT Head), Asuka is one person the brand can't possibly afford to lose.
After successful title defenses, Asuka became the longest ever reigning champion in NXT history. Her dominance in the ring was too much for her opponents. Her character became more villainous and dangerous as her career continued.
In late 2017, she debuted in RAW brand, ready to conquer this arena too. She destroyed her opponent Emma at TLC in her debut. Asuka performed extraordinarily in the "Survivor Series" against "Team Smackdown" where she was the sole survivor of her team RAW. Nobody was safe from Asuka's wrath as she defeated notable wrestlers such as Alicia Fox and Alexa Bliss in various matches.
SmackDown
Her official debut in SmackDown was iconic as she appeared in WWE Superstar Shake-up and saved Charlotte Flair and Becky lynch from the formidable opponents, the Ilconics.
In 2018, Asuka swept the floor and won her first Royal rumble match defeating Nikki Bella and various other divas. This was her ticket to "WrestleMania34". Her WWE winning streak lasted for 914 days until she got bested by Charlotte Flair at the "SmackDown Women's Championship".
Her warrior spirit never faded as she continued her struggle to be the champion. On May 15 at an episode of SmackDown, the GM Paige announced a match between Asuka and Carmella (Champion). She lost due to a distraction created by James Ellsworth.
With the help of Ronda Rousey, she successfully defeated both Becky and Charlotte in TLC becoming the "SmackDown Women's Champion".
The Famous Kabuki Warriors
Asuka's popularity grew manifold since her debut in 2004. She formed a dangerous tag team with Kairi Sane, a professional wrestler from NXT. They were called the Kabuki Warriors. Later clashed with another formidable team "The Ilconics" comprising of Billie Kay and Peyton Royce. Both teams fought for the chance to get the title match of "Women's Tag team Champion". The kabuki's destroyed their opponents which invited great reviews from critics. Later they fought against Alexa Bliss and Nikki Cross for the title but couldn't make it.
The Kabuki's needed time to rejuvenate from the loss and came back stronger after a little break. On Oct 6, 2019, they stepped back into the ring and pulverized Mandy Rose and Sonya Deville. After that, they once again faced Alexa and Cross but this time with some tricks at the end of the match Asuka overpowered the opponents. The Kabuki warriors finally became the Champions.
Asuka's signature green mist helped them defeat Becky and Charlotte in a non-title match. The Kabuki's turned heel in the process. Asuka and Sane continued to run havoc in the WWE universe. They even spit the infamous green mist onto Manager Paige. Asuka became the RAW Women Champion after Becky vacated the title due to her pregnancy. Asuka also bested the famous Nia Jax. She defeated Nia at "Backlash" and successfully defended her title. Asuka and Sane slowly started to shed their evil persona.
The kabuki warriors officially disbanded at the Night of RAW Women's championship. As Asuka chose to get defeated by Banks to save Sane from the assault by Bayley. Sane later left WWE to be with her loving husband back in Japan.
Asuka's journey towards excellence continued as she defeated Sasha Banks in a rematch for the RAW women's championship. Asuka won the WWE title once again. Later Asuka stepped into the ring at "Clash of Champions" and she defended her title successfully against Zelina Vega. She is the current Champion.
Other Media
Kanaka has an active social media presence. She runs a youtube channel by the name " KanaChan TV". It has many videos regarding Lifestyle, cooking, and gaming. Her fans and video game enthusiast enjoyed her appearance in WWE video games.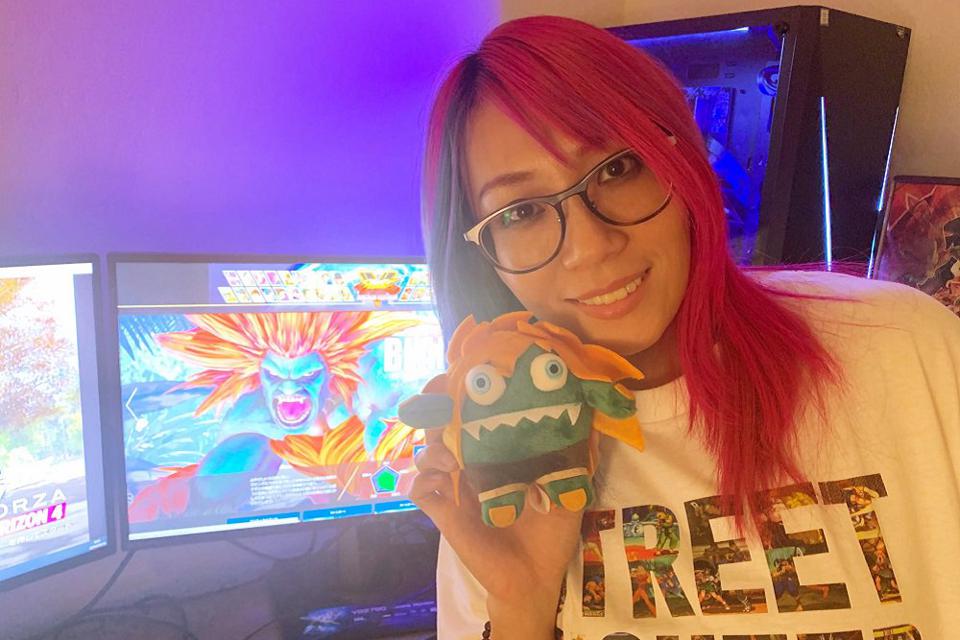 Famous Wrestling Moves
Running hip attack
Asuka Lock
Empress Combination
WWE Accomplishments
WWE Women's Tag Team Champion
WWE SmackDown Women's Champion
WWE RAW Women's Champion (Current )