Stephanie is not your everyday professional wrestler. She is what one may call a member of a royal family in the WWE universe. Stephanie belongs to the McMahon family tree that is the founder and owner of the whole WWE franchise. Born on Sep 26, 1976 (44 years old) in Hartford, Connecticut USA, she opened her eyes to the thrilling world of professional wrestling.  From an early age, she took interest in her forefather's business. She used to design the WWE merchandise. An alumna of Boston University where she completed her degree in "Communications". From being the receptionist to slowly moving towards a more serious administrative role she proved her worth. Stephanie is a Chief Brand Officer of WWE. Her father Vince K McMahon is the current CEO of WWE. It seems like there is no such thing as ordinary in her family as she is married to the fan-favorite wrestler Triple H.  Her character in the WWE universe is particularly evil and her villainous status spiced up the wrestling arena.
Stephanie McMahon WWE- Wrestling Career
Stephanie has been involved in some interesting storylines throughout her career. She gave her first appearance in 1999. Her earlier character was a sweet and innocent daughter of the CEO Vincent McMahon. During the "Backlash" Stephanie got involved in a feud between her father and "The Undertaker" which resulted in her being kidnapped by him. Another fan-favorite "Stone Gold" later rescued her. She started an on-screen relationship with "The Test" later that year. The couple went on to defeat Jeff Jarrett and Debra. This was the time when Stephanie showed her athletic prowess.
The story continued but with a surprising plot twist. Test and Stephanie were about to get engaged in an in-ring ceremony when Triple H showed up and showed a video of her being drugged and marrying him in LA. Stephanie despised Triple H at the start as he defeated her father in "No holds Barred Match". She later revealed in the next episode of RAW to her father that the wedding was planned and it was revenge against him. Her forced involvement between the feud of her father and "The undertaker" made her hate him. Her character turned villainous which made the fans excited for the future.
Back in 1999, Stephanie showed excellent charisma and wrestling prowess in the ring. She defeated the formidable champion "Jacqueline" on SmackDown. This showed Stephanie is no daddy's gal but a professional athlete. She held the WWE Women's Championship title. Her title defense was as thrilling as ever and she successfully defended her belt against "Lita".
Soon after that Stephanie started to become an authority figure and started to take more interest in her family business. She made peace with her brother and father at the "WrestleMania 2000". As they help her boyfriend Triple H win against the people's champ "The Rock".
The storyline continued to have twists. Later in 2000 McMahon, Kurt Angle, and Triple H were involved in a love triangle. McMahon solidified her villainous persona as she used a low blow on Kurt and then Triple H ultimately defeating Kurt.
The drama in the McMahon family never seems to stop. Due to some internal fighting between Stephanie's father Vince and mother Linda a new storyline originated. Vince had an open affair with Trish Stratus. This made Stephanie furious as she pulverized her in the event "No Way Out".
Stephanie Separation from Triple H
Stephanie claimed to have bought the rights of "Extreme Championship Wrestling". She formed a team consisted of giants like Steve Austin, Booker T, and Rob van Dam. They called themselves " The Alliance". Unfortunately, they got defeated by The Team WWF which comprised of The Undertaker, Kane and Big Show and The Rock. These survivor series were a huge hit. That night Stephanie and her brother Shane got banished by WWF.
In 2002 McMahon and Triple H started to have relationship problems and the couple separated. They ultimately divorced after Stephanie lied to Triple H about her pregnancy.
McMahon became allied with Jericho and together started a feud with Triple H. They fought head-on with Triple H in a "Triple Threat Match" which was ultimately won by Triple H.
From then she shed her evil persona and returned to the ring with a bang. She returned as General Manager of the famous SmackDown. Her support for the fan-favorite athletes gained her immense popularity in the audience. She worked hard in bringing the "WWE Tag team championship" which becomes a popular category among the fans. Her shenanigans continued as she got into the feud with her father Vince once again leading to a fight between the two. She took a break from professional wrestling after that as she was about to get married to Paul Levesque(Triple H) in real life.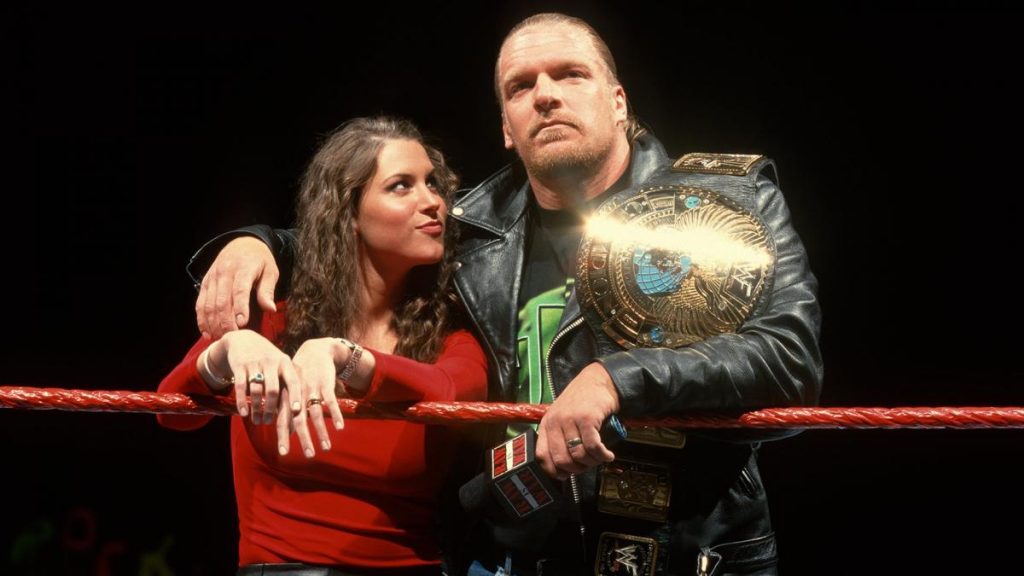 The Authority
In 2013, McMahon once again stepped into the WWE universe. She and her husband showed their dominance over the professional wrestling universe. Stephanie assisted Triple H in winning against Daniel Bryan at "SummerSlam". She later signed a contract with WWE and became regular at the program. The couple posed as the authority in the WWE universe and started to take control of all the matters concerning the ring. In 2016, McMahon introduced the famous Becky Lynch and Charlotte Flair in the WWE Divas category. She dubbed it the "Revolution" in Women's wrestling. Truly the two fighters proved to be quite a star in the WWE universe.
Working as a Raw Commissioner
Vince McMahon spiked a competition between his two children Shane and Stephanie. He made his son the SmackDown commissioner and his daughter the Raw commissioner. This sparked the sibling rivalry that translated into two franchises "SmackDown" and "RAW". This resulted in "Survivor series Elimination" matches that were an instant hit among the fans. The best five wrestlers of each division would fight against each other to showcase their strength. Stephanie played a vital role in the expansion of the WWE universe and bringing fresh entertainment to its fans.
Wrestling Moves
Pedigree which she adopted from her husband-Triple H
Clothesline
DDT
Hair-pull snap mare
Achievements
WWF Women's Champion
Holder of "Vincent J. McMahon-Legacy of Excellence" award.
Executive Vice-president.
WWE-Chief Brand Officer (present)